Following the Kobe earthquake on January 17, 1995, National Research Institute for Earth Science and Disaster Resilience (NIED) established four nationwide land observation networks, Hi-net, K-NET, KiK-net, and F-net, to improve understanding and assessments of earthquakes and their impacts. NIED also established V-net at 16 volcanoes to monitor volcanic activity.
 After the Tohoku earthquake on March 11, 2011, a seafloor observation network, S-net, was installed from off Hokkaido to off Chiba Prefecture for rapid detection of offshore earthquakes and tsunamis. In April 2016, NIED took over the operation of DONET, another seafloor network in Kumano-nada and off Kii Channel, from Japan Agency for Marine-Earth Science and Technology (JAMSTEC).
V-net provides comprehensive monitoring of volcanic activity that helps estimate changes in the volume of volcano magma chamber
V-net

 | 

The Fundamental Volcano Observation Network
 V-net is an observation network operated at 16 volcanoes in an effort to develop eruption forecast and volcano hazard mitigation. Several types of instruments are installed, including borehole seismometers, borehole tiltmeters, GPS receivers, and broadband seismometers. The borehole measurements at Mt. Miyake observed precursors to the eruption in 2000. At Mt. Asama, a radar interferometer is also installed, to monitor surface deformation from magma movement before and during eruptions.
DONET

 | 

Dense Oceanfloor Network system for Earthquakes and Tsunamis
 DONET is an ocean bottom observation network consisting of 51 stations in Kumano-nada and off Kii Channel, focused on monitoring of earthquakes and tsunamis in the region. A wide variety of instruments are installed, including strong motion seismometers, broadband seismometers, water pressure gauges, hydrophones, differential pressure gauges, and thermometers. The network is designed to be expandable and replaceable, allowing for adding stations and replacing instruments. The data is transmitted to research institutes and universities in real time, and improves precision and warning times of earthquake early warning and tsunami warnings/advisories by JMA.
Column
MeSO-net

 | 

Metropolitan Seismic Observation network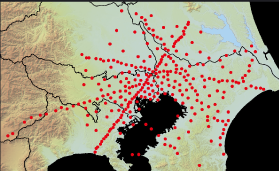 Earthquake Research Institute (ERI) at the University of Tokyo established MeSO-net consisting of about 300 stations with a spacing of 2-5 km, to measure ground shaking and monitor seismic activity in the Tokyo metropolitan area. NIED took over the operation of MeSO-net from ERI in April 2017.
Museum Exhibition
Real-time seismic data from MOWLAS is displayed at several museums, which includes maps showing seismic activity and earthquake seismograms.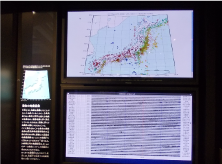 National Museum of
Nature and Science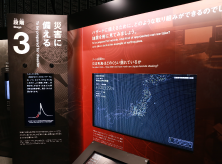 National Museum of Emerging
Science and Innovation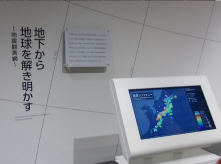 Nagoya City Science Museum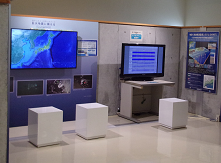 Muroto Global Geopark Center